---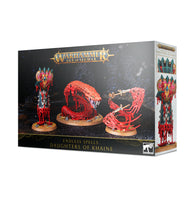 Sale
The Daughters of Khaine endless spells offer diverse and powerful tactical options to your army, designed to slay your foes and offer helpful boons to your own units. This set contains models for all two endless spells and an Invocation of Khaine, two of which can be cast by your wizards, while the third can be summoned by priestesses.
This 42-piece kit builds three miniatures for Daughters of Khaine armies:
– Bloodwrack Viper
– Bladewind
– Heart of Fury
This kit also includes a 100mm round base and two 50mm round bases.
Warscrolls for these models can be found in Battletome: Daughters of Khaine.