---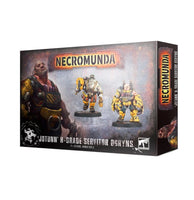 Sale
Add some extra strength to your gang with these two Ogryns – either add them to your Slave Ogryn gang or hire them as Brutes for any other gang. However you field them, these Ogryns provide the brute strength necessary to dominate the underhive.
This 57-part plastic kits makes two Jotunn H-Grade Servitor Ogryns. It comes with multiple head options, including a Lobo-slave variant and also features different bodies, optional backpacks, augmetic fists, storm-welders, spud-jackers and the option to make Ogryns with only one arm – though they're far from 'armless! The kit is supplied with two Necromunda 40mm round bases.
Rules for adding an Ogryn Brute to any gang can be found in Gangs of the Underhive, House of Chains and House of Blades.