---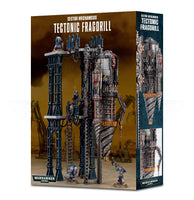 Sale
The Tectonic Fragdrill is designed to fit in with the range of Sector Mechanicus scenery, and boasts many of the same design features and components. The rails included with it are also compatible with the Galvanic Servohauler kit.
This plastic kit consists of 63 components, including walkways, legs, a floor, chimneys and the drill itself. 
The datasheet for the Tectonic Fragdrill can be found in Codex: Genestealer Cults, as well as in the included construction guide.